The Pantera Place
"Your de Tomaso Connection"
Pantera Upholstery
By Mike Dailey
I recently noticed one of my headrests had developed a split in the covering. Not surprising after forty years of use. I remembered that Scott Bell was offering reproduction upholstery that has the original color and grain. I quick email to Scott and I had what I needed in the mail.
Scott Bell
Specialty and Classic Car Restorations
Murrieta, California
951-461-2190
Website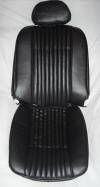 Scott's 1971 upholstery that is a reproduction of the original and is available for the different model years and seat configurations.
Although the pieces come with zippers I decided to have the installation done by a professional upholstery shop as recommended by Scott. I chose to use Gary Smith at Complete Interior Restorations, Inc.
Gary Smith
Complete Interior Restorations, Inc.
1080 Vijay Drive
Atlanta, GA 30341
770-451-3914
Photos showing the recovering process. Gary replaced the old foam and used upholstery adhesive on the back side of the headrest to help hold the cover in the correct position. After the cover was installed I cut off the zipper slider pull.
Completed headrests installed